Mural Unveiled at Newly Remodeled Vermont History Museum
Montpelier, Vermont—The Vermont Historical Society (VHS) reopened the Vermont History Museum in Montpelier with a celebration of the new installation of the Paul Sample mural, "Salute to Vermont." The mural, which was installed in the remodeled entryway of the museum, had been donated to the Historical Society by National Life in fall 2016.
The mural depicts the history of Vermont over an 8 foot tall by 50 foot long canvas. It was removed from the National Life Building in September 2016 and reinstalled in a custom-designed orientation space at the Museum in February 2017. VHS worked with Bread Loaf Corporation Architects and Builders, along with Shadows and Light Exhibit Design, and Phillips Conservation to create the new space for the mural. In addition, the Museum took advantage of the shut down time between January 1st and early February to work with Bread Loaf to make additional museum updates, including a redesigned front lobby and store, a new local history gallery, interactive exhibit elements, and updates to exhibit interpretation. The work included improvements to flooring, paint and new energy-efficient lighting.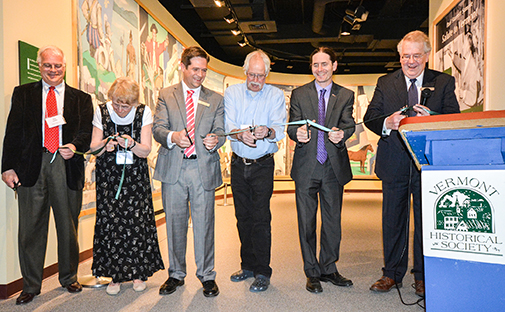 The ribbon cutting was on April 27th, and guests included Lt. Governor David Zuckerman; Brian Lindner, corporate historian for National Life Group; Steve Perkins, Executive Director of the Vermont Historical Society; Dick Marek, President of the Vermont Historical Society; Barbara Mieder, Vice-President of the Vermont Historical Society; and Tim Sample - the Artist Paul Sample's son.
Visitors can view the mural during regular Museum hours, Tuesday-Saturday from 10:00am to 4:00pm. The Museum is located at 109 State St in Montpelier.
The Vermont Historical Society is a nonprofit organization that operates the Vermont History Museum in Montpelier, the Leahy Library and the Vermont Heritage Galleries in Barre, and programming throughout the state. Established in 1838, its purpose is to reach a broad audience through outstanding collections and statewide outreach. The Vermont Historical Society believes that an understanding of the past changes lives and builds better communities. Visit the Society's website at www.vermonthistory.org.