Senior Construction Project Manager
Description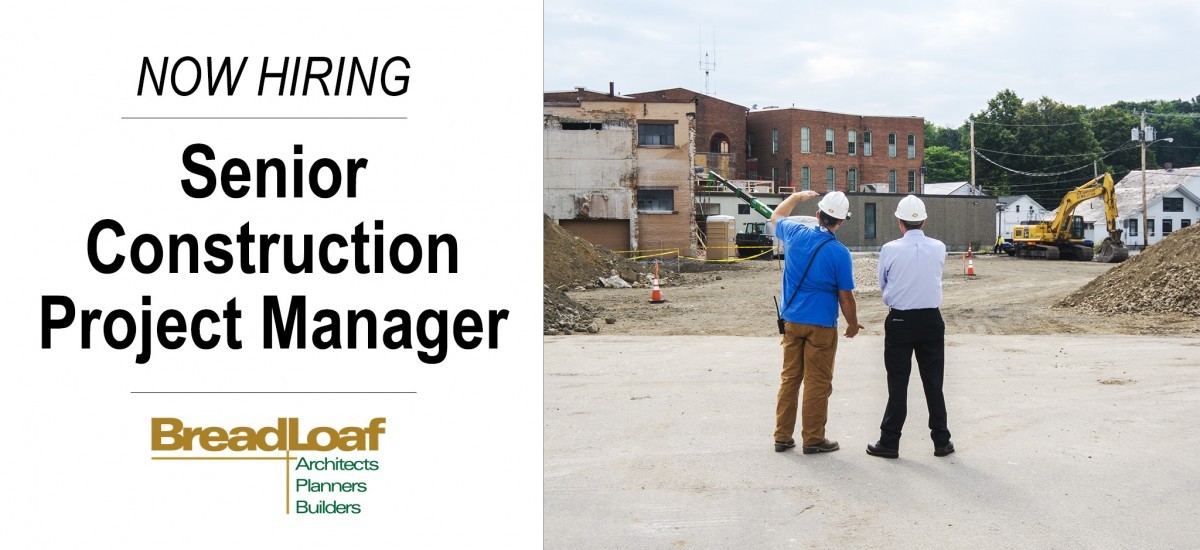 Bread Loaf Corporation integrates planning, architecture and building solutions to help our clients grow their businesses, communities, campuses, and cultural institutions. At Bread Loaf we value the integrity and ingenuity of every person on our team, every planning study we develop, every architectural design we create, every structure we build.
We are seeking a Senior Construction Project Manager to join our team.
Our benefits package includes:
Health/Dental insurance
Short-Term/Long-Term Disability
Company Paid Vision Insurance & Life Insurance
Car Allowance & Gas Card
Vacation Time
Paid Holidays
401K Plan and Company Match
Competitive compensation based on experience
Job Description
Our Project Managers are key members of our integrated project management teams – providing support through design and taking the lead through construction.
Responsibilities include:
Collaborate with design entities and the Owner to establish a project development schedule and review deliverables.
Be extremely familiar with Owner expectations, terms, conditions, scope, budget, milestones, completion, exclusions, allowances, bonding and insurance.
Responsible for all materials and equipment to be incorporated in the work conform to project requirements through the submittal, review, approval, fabrication, delivery and receiving process.
Update and finalize the construction schedule of major activities with subcontractor input.
Assist the Superintendent in developing a detailed schedule of all construction activities and ensuring that it conforms to the schedule of major activities.
Review the construction budget with the Estimator and correlate estimated costs to defined scopes and work packages. Project the final cost of each budget item in the current scope, total the projected costs and compare the total to the contract amount of the current scope, to report the projected margin on the project.
Verify with Bread Loaf's CFO that satisfactory evidence of the Owner's financial responsibility is in place. Establish a Schedule of Values equaling the contract amount.
On a weekly basis review and approve Field Purchase Orders issued by the Superintendent and forward to the Accounting Department for invoice matching and payment.
Keep the Owner apprised of potential cost and schedule implications due to changes in the work. Ensure that the job Superintendent and appropriate vendors are aware of and have documentation of proposed changes in the work.
Conduct a weekly jobsite meeting with the Owner and design entities in accordance with Bread Loaf's standard agenda, record discussions, decisions and assigned responsibilities in meeting minutes and ensure distribution to all affected parties.
Oversee completion of punch list items for final contract completion. Oversee completion and turnover of record drawings and O&M manuals to the Owner. Submit all required items for final payment. Follow up on final payment. Chair the Bread Loaf close-out meeting.
Investigate reports of defective work during the warranty period and ensure timely correction of the root cause as well as the immediate problem.
Maintain a friendly and supportive relationship with the customer and an awareness of the customer's future needs.
Qualifications
Ideal candidates will have the following:
Bachelor's Degree in engineering/construction related area or equivalent work experience and demonstrated knowledge of construction management.
Firm knowledge of construction scheduling.
10 years of construction management experience preferred.
Experience managing projects ranging from $5 - 40 million.
Excellent presentation skills and ability to interact to develop credibility with clients and instill confidence.
Ability to balance multiple projects and meet deadlines.
Excellent computer skills. Preferably experience with Procore and all Microsoft Office products.
Self-motivated with ability to communicate well with co-workers and follow through on assigned projects with minimum supervision.
Ability to walk-through and oversee active construction sites.
Strong organizational abilities and problem-solving skills.
Position requires travel to job sites up to 40%.
Back to Job Posts