Healthy Building = Healthy People
by Andrea Murray, AIA, NCARB, LEED AP
Health Care and Rehabilitation Services of Southeastern Vermont (HCRS) is a multifaceted, non-profit, community mental health agency which has served Vermonters since 1967. By 1990, the agency had evolved into the comprehensive human services provider it is today with major programs in mental health, substance abuse, and developmental disabilities. HCRS currently serves more than 4,500 Vermonters each year. HCRS' mission is to provide exemplary service by a team passionate about improving the quality of life in our communities.
In the fall of 2005, HCRS teamed up with Bread Loaf Corporation of Middlebury, Vt., to help consolidate seven of their scattered office and treatment centers into one new 30,000-square-foot facility. Together we developed a concept for a healthy, sustainable building. This building is not just "green" and environmentally friendly; rather, it was designed to last, or sustain, by being flexible and enduring. Bread Loaf's unique integrated design and project management process allowed this to happen by assembling an extensive project team and defining and embracing HCRS' project goals early in the process. As Judith Hayward, chief executive officer of HCRS, put it at the building dedication ceremony in August 2007, "Our dream became [Bread Loaf's] dream."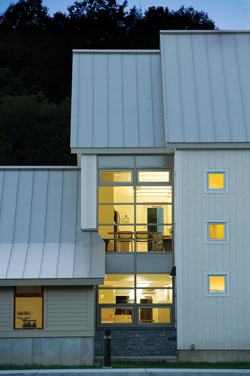 Because Bread Loaf is an integrated firm with planners, architects, engineers, environmental experts, historic preservationists, estimators, construction project managers, and superintendents all under one roof, we are in a unique position to assist a client in establishing reasonable project goals from the outset. Together, we gather around the table from the beginning and offer information and expertise about various design and building solutions, allowing our clients to make well-informed decisions early in a project. This "integrated design" approach is much more effective with a design-build delivery method and is ideal for sustainable "green" building solutions, as we can evaluate critical aspects of a proposed design before we're knee-deep in budgets, schedules, and design concepts. A healthy, sustainable building helps clients feel respected and be healthier, while also reducing staff turnover and sick leave. Joan Senecal, commissioner of the Department of Aging and Independent Living in Vermont, expressed her approval of the new facility, "Everything about this building says HCRS cares about its staff, clients, and anyone who walks in." Design-builders are in a terrific position — when compared to separate, highly fragmented architecture and construction firms — to deliver sustainable building solutions for a greater value. This is the case because we often have multiple disciplines working together on a project from the onset. We can consider alternative design and building strategies and look for creative ways to include them in our projects. We can weigh the costs and benefits of such strategies and seek out a range of solutions that allow each building component to have more than one purpose and work synergistically to maximize the benefits realized.
Defining Project Goals
For years, HCRS has offered services in several small buildings — old houses for the most part — throughout two counties. The facilities were dilapidated, often not easily accessible, and did not meet the needs of staff and clients. An even greater change was to bring these outposts together, while being sensitive to individual department identities and client dependencies.
At the onset of the project, Hayward very clearly stated, "We must strive to make the agency an island of safety and care for all those who come to us. Our objective is to create quality spaces where individuals feel uplifted by the color, light, texture, and harmony of their surroundings."
While this facility would have to be large enough to accommodate staff, programs, and clients, it also had to be welcoming and comfortable with natural light and fresh air for everyone. Another goal for this was to promote socialization among employees. We know human behavior is shaped by context. We had to make sure that employees, as well as clients, receive all the social support a building could offer to make them happy and productive.
Facility Survey
As a team, we visited HCRS and their existing facilities. We spoke with staff and inventoried the space occupied. We listened carefully to their needs and documented the condition and efficacy of the spaces they were using. While it was difficult to measure the total effect the existing workplaces were having on staff productivity, retention, and attendance, we talked a great deal about job performance and satisfaction going forward.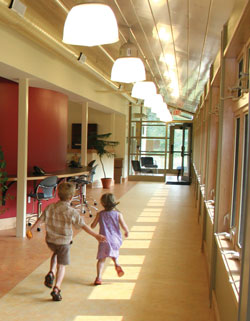 Programming Study
Once we had inventoried the existing space, we created a baseline document against which we could measure our new designs. This also became a very useful tool in locating people, departments, and activities in the new building. We noticed right away that there were economies to be had in the new building by sharing many spaces currently housed in each existing building. For example, each building had a kitchen, a conference room or two, and a reception desk. The new building could have fewer kitchens, conference rooms available to everyone, and one central reception area.
Establishing Priorities
Early in the project, our integrated team and the HCRS Building Committee met to establish project priorities. The design was to focus on quality over quantity, with healthy sustainable features to take precedence. The budget was tight and fixed, and Bread Loaf helped HCRS manage its budget and make good, value-based decisions. And the schedule was tight. As design began in November 2005, HCRS needed to be in their new facility in the summer of 2007 — a deadline a design-build relationship can ensure with greater ease than a traditional architect/contractor team.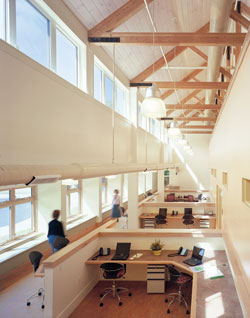 Community Building
The building was designed to resemble a village with two intersecting "Main Streets" and a "Town Center." The Main Street idea stems from proven research indicating that building environments which promote casual interaction among colleagues and peers leads to more innovative, inspired, and efficient business operations and solutions. At HCRS, the streets connect various HCRS communities, or departments. Each community has its own gathering, open work, and private, distraction-free consult spaces, and they all come together in the Town Center, a main entry/waiting area.
In addition, the building design promotes comfort for its clients by emulating a place much like the place they live: a small village in Vermont.
Construction Anticipation
This client appreciated our solesource responsibility — something only a design-builder can offer. Many non-profit organizations are understaffed and their staff overworked. HCRS was no exception. The last thing they needed was the management of a significant construction project. While the top decision-makers stayed quite involved, they relied on Bread Loaf to help them make well-informed project decisions throughout construction.
In addition, Bread Loaf looked at many systems and strategies throughout construction to benefit the organization and allow construction to proceed smoothly.
For example, our architects recognized that proximity to operable windows for natural light, ventilation, and a visual connection to the outdoors would go a long way in providing familiarity and comfort for employees as well as their clients. We specified triple-glazed windows to maximize the R-value of the exterior envelope. Our engineers responded by outlining a system of smaller heat pumps to respond to the more specific zoning needs created by the windows at various exposures. Our estimator shifted a greater portion of the budget to the windows, anticipating this as a key element, requiring more resources than typically budgeted. Our construction manager found a local company that manufactures triple glazed windows to meet our schedule (something that might have challenged larger manufacturers located at much greater distances). Hence, one concern identified by the client inspired reactions from individual project team members to arrive at a comprehensive solution.
But this process went one step further. The large area of windows demanded a highly efficient wall system to maintain a tight thermal envelope. A survey of local businesses revealed three structural insulated panel (SIP) suppliers within a 30-mile radius of the project site. The panels work architecturally and provide a substrate for residential-type siding. They eliminate air infiltration and provide a greater R-value than typical batt insulation. This efficient envelope also allowed us to reduce our mechanical systems, permitting smaller heat pumps. And several local suppliers competing for the project ensured competitive pricing.
The team visited these suppliers/ manufacturers and selected the most qualified for the job. The team estimator was able to obtain guaranteed pricing before the design was complete, allowing greater budget accuracy. Our engineers worked with the panel manufacturer to provide data on the panels' structural properties, resulting in reduced demands on other structural components. Finally, our construction project manager was concerned about the fall groundbreaking and enclosing the building before winter. The use of SIPs from a local supplier enabled us to meet this schedule and allowed work to continue through the winter.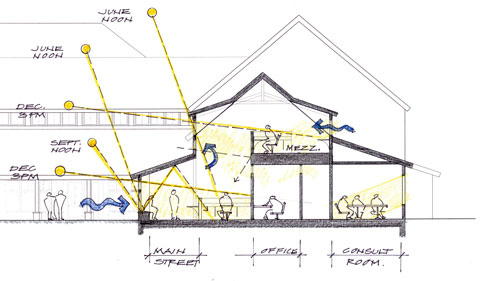 Design Strategies
The list of "green" or sustainable design solutions for this project includes active and passive, no-cost, low-cost, and significant-cost green and sustainable design. Because of limited budget resources and schedule constraints, many of these results may have been unachievable had this project not been designbuild. In developing our strategy for sustainable design, we considered site development, water savings, energy efficiency, materials selection, and indoor environmental quality.
Storm Water Management
In collaboration with our civil engineer, this project includes a bio-retention pond that contains, cleanses, and filters storm water before it is released into the Black River. This pond is naturally vegetated with local indigenous plants and layered with porous soils and mulch. It already attracts interesting wildlife and is pleasant to look at as well.
Building Orientation and Sun Control
The goal was to capture as much natural light as possible throughout the building while reducing heat gain during the hot summer months (when the sun is high in the sky), and to take advantage of the solar heat gain in the winter (when the sun is lower), thereby reducing demand on heating and cooling systems. Building overhangs, vertical fins, and light shelves all help to control and direct light throughout the building.
In addition, more public spaces are located in the areas with more intense natural light, while private consult rooms face primarily north and west where light levels are more consistent.
Overall Energy Efficiency
As part of the schematic design process, Bread Loaf performed a preliminary building energy analysis comparing various mechanical system schemes to determine the lowest lifecycle cost approach to heating, cooling, and air-conditioning. This was a "net present value" analysis that calculated the annual discounted future cash flows for operating and maintenance costs over a 20-year period, and compared them to the initial capital cost. The systems compared included: water source heat pump, four-pipe fan coil unit, variable air volume, and geothermal heat pump systems. Considering the low initial cost and modest operating cost over time, the water source heat pump system was selected with the lowest life cycle cost of any alternative. The energy modeling results for the selected water source heat pump system indicates the following:
This building is projected to use 11.6 kWh/ft2. Typical buildings would use 36 percent more electricity per year for power, based on region averages and building occupancy.
Electrical energy use is 20 percent lower than the average building of this size and occupancy, according to a Department of Energy (DOE) national study.
This building is projected to use 3,300 therms of propane per year. The DOE study indicates that representative buildings would use 250 percent more propane per year for heating.
From an overall building perspective, the building's tight envelope, efficient lighting, and energy-efficient windows coupled with energy-recovery ventilation has resulted in a building projected to use 48 percent less total energy than buildings constructed just 10 years ago. Compared to buildings in New England, this building's energy use projection is 45 percent less than that of similar regional buildings constructed in the last decade.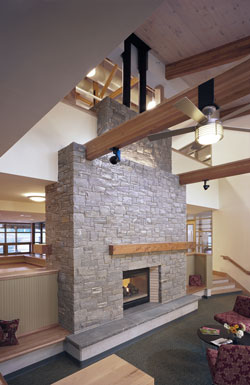 Natural Ventilation
Operable windows provide employees and clients access to fresh air. Temperature and humidity sensors within the building let occupants know when windows should be opened to provide natural ventilation. Some windows located in clerestories and dormers are operated mechanically to provide a "stack effect" at such times, drawing cool air in at lower levels and releasing warm air up high. This will help reduce energy costs and cooling system demands.
Building Envelope
The most important energy-saving measure for a building like this is to design a tight, well-insulated building envelope. We used SIPs to enclose the walls and roof, and we specified triple-glazed, insulated windows. All gaps and penetrations were air sealed. Air infiltration, if any, will be negligible. This allowed us to reduce the size of the mechanical equipment necessary to maintain a comfortable interior climate. It also minimizes the amount of fuel needed to operate such systems.
Insulation
In addition to the rigid insulation that is part of the SIP assembly, we used damp, spray-applied cellulose insulation for acoustical purposes. Cellulose is proven to fill wall cavities completely, eliminating the gaps and voids inherent in fiberglass insulation installation. Because of this density, the insulating value of the wall, floor, or ceiling/roof assembly is increased dramatically. In addition, the cellulose is non-irritating, unappealing to insects and rodents, and flame- and corrosion-resistant. We have limited the use of fiberglass insulation to contained pipe insulation only, as fiberglass insulation is a contributor to sick building syndrome, is a haven for mold growth and other fungi, and exposes construction workers and building occupants to airborne glass fibers.
Local Materials
Wherever possible, we selected fabricators and products for this project manufactured within 500 miles of the site. Some examples include windows, interior millwork, stone and masonry, SIPs, steel fabrications, plantings, and wood siding and trim.
Indoor Air Quality
Indoor air quality, both during construction and when the buildings are finally occupied, is always a challenge. We wanted to eliminate, or at the very least limit, the off-gassing ofmaterials into the spaces. We specified interior finishes (i.e., carpet, sheet flooring, counter laminates, etc.) with very low or no volatile organic compound (VOC) levels. In addition, we also specified waterbased interior paints and urethanes with minimum VOC levels. During construction, we sealed off air vents so particles and dust would not get into the mechanical systems, and we maintained good natural ventilation to protect workers on site.
Construction Waste Management
Waste reduction was primarily achieved through building design and reuse, and recycling efforts were maintained throughout the construction process.
Recycled Materials
In addition to our construction waste management plan and the recycling of building materials not used or scrapped, we specified as many products and materials for the building with high post-consumer and post-industrial recycled content. These included the carpeting and pads, structural steel and steel fabrications, OSB components of the SIPs, and furniture made from recycled products as well.
Energy-Efficient Lighting
All light fixtures on the project have fluorescent bulbs with electronic ballasts. These assemblies use far less energy, have a much longer life than the conventional incandescent-type fixtures, and reduce the amount of heat gain into the interior spaces. Exterior light fixtures are metal halide and are controlled by photocell.
Solar Power
The building was designed with south-facing roof slopes ready to accommodate a 40-kilowat array of photovoltaic panels. Conduit has been installed and HCRS is currently fundraising for this part of the project.
Plumbing Fixtures
Efficient plumbing fixtures and fittings used on the project include dual-flush toilets and flow restrictors on faucets and showerheads. On Aug. 30, 2007, HCRS celebrated the opening of its new facility. The staff are still learning productive techniques and reinventing their jobs based on the new context. The most discussed sustainable design feature is clearly the quality of light in the building. "It seems we never need to have the lights on — it's lovely," one staff member said. HCRS is truly a pioneer in the field of mental health. Their new facility exudes warmth and embraces its visitors, literally, with open arms. HCRS realizes that the treatment they provide depends on the wellbeing of their staff and the quality of the space where treatment is provided. Design-build, with its inherent integrated process, is ideal for implementing such strategies. HCRS is a perfect example.