Stowe Electric Makes Home Improvements
Caleigh Cross
The Stowe Electric Department wants to stop paying rent and move into a home of its own.
That could happen in 2019 if all goes well, says Ellen Burt, the department's general manager.
Stowe Electric Department has bought 4.5 acres on Moscow Road — the former Moscow Mills complex — and plans to tear down the buildings and construct a new office and garage there. That will consolidate operations now in two different places in town.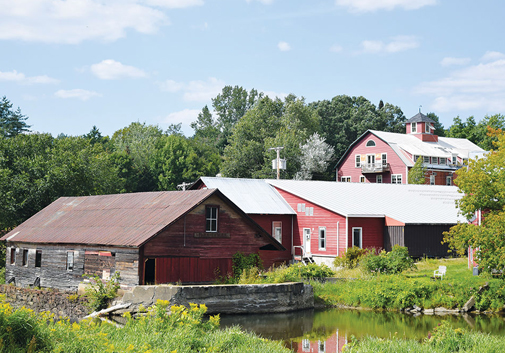 The department's equipment is now stored in a garage on Dump Road, opposite the Stowe Transfer Station, and its offices are on Old Farm Road.
Once Stowe Electric moves out, the Lamoille Regional Solid Waste Management District, which runs the Stowe Transfer Station, will rent the garage from the town.
Stowe Electric pays $60,000 per year to rent its offices.
In the long run, Burt says, the municipal utility will save money by owning rather than renting.
Better yet, the money to buy the land and build the office and garage won't come out of Stowe Electric ratepayers' pockets, Burt said.
The department had owned land on Route 100 and planned to build there, but several town boards objected in 2009 to putting an industrial-looking building in a farm setting. That plan was scrapped, and it was back to renting for Stowe Electric.
The department sold the land on Waterbury Road for $515,000 and used it to buy the Moscow Road property, which cost $675,000. The rest of the money came from a fund Stowe Electric had built up since 2009 for construction, Burt said.
Also in 2009, the municipal utility ran fiber-optic cable along a power line to the summit of Mount Mansfield. In 2015, it leased that fiber network to the Albany, N.Y.-based telecommunications company FirstLight Fiber, and "we will be putting these payments toward the building construction costs," Burt said.
Burt said a confidentiality clause blocks disclosure of how much money Stowe Electric is getting from the FirstLight Fiber lease.
"I can tell you that the agreement is at fair market and consistent with other agreements of its type," Burt said. "Also, the revenues derived from this agreement are not a part of (Stowe Electric's) operating revenue and would not normally be used in determining rates. Using these funds for construction of a new facility will ultimately help stabilize and may even lower rates once we have our own building and no longer incur a rental expense that is included when determining rates."
Walker Construction will demolish the former Moscow Mills buildings and Bread Loaf Corporation, based in Middlebury, will manage construction.