Upper Valley Waldorf School
Quechee, Vermont—On a seasonably warm afternoon, a groundbreaking ceremony was held on May 19, 2017 at the Upper Valley Waldorf School to celebrate the school's addition and renovations project. Board members, parents, teachers, administrators and community members gathered to dig a little dirt with golden shovels to usher in a new era of growth for the UVWS.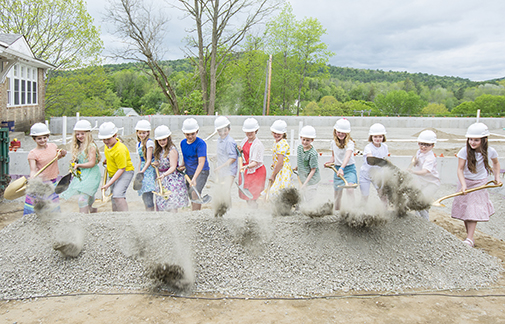 The addition will consist of 4 new classrooms, a library space, new restrooms, administrative offices and student break out spaces. The renovations to the existing school building will include safety measures such as automatic sprinklers and a fire alarm system. A new main entry canopy will enhance the existing building and provide shelter for students waiting for pick up at the end of the school day. Designed and constructed by Middlebury based Bread Loaf Corporation, the addition totals 6,300 square feet and also includes design and permitting of a future auditorium to be built under a later construction phase. To increase vehicular and pedestrian safety, the project will also include the widening of Bluff Road as it intersects with Main Street. Overhead power lines will be buried and new trees will be planted. The construction will be ongoing throughout the summer months and is scheduled to be completed by the end of 2017.