Committee Presents Plan for New Newport Recreation Center
By Patrick O'Grady, Valley News Correspondent
Newport — A presentation of preliminary plans for a new recreation center in Newport left supporters of the project feeling like a million bucks.
At the end of the presentation on Wednesday night, Town Manager Hunter Rieseberg announced the town has received an anonymous donation of $1 million for the project, contingent upon the town raising an additional $2 million.
"It is a great way to start the project," Rieseberg said about the donation at the public forum, attended by members of the Community Center Committee and Selectboard. "We are setting out to meet the challenge and make that happen."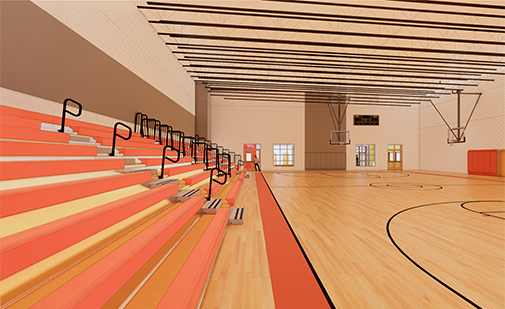 The new center would be built adjacent to the Little League Field on Meadow Road, across the street from Bill Bates Memorial Field. The Little League field would be reoriented to accommodate the roughly 20,000-square-foot facility at the northwest corner of the property. The center would include a large gymnasium, three multipurpose rooms, a fitness room, team rooms and a concession area.
John Dale, architect with BreadLoaf Architects of Middlebury, Vt., said the building's design was geared toward allowing for simultaneous use. For full article visit Valley News.